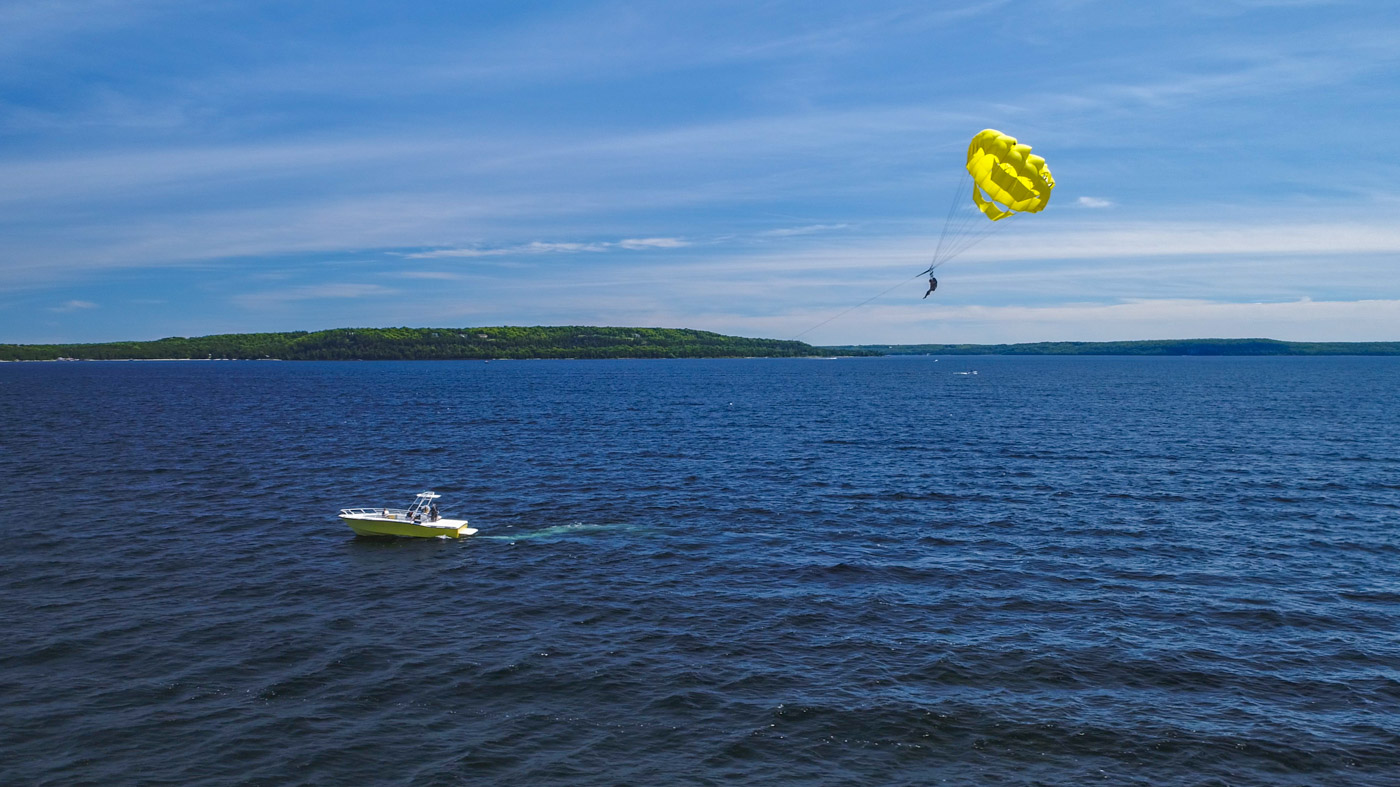 Experience Door County from new heights
Parasailing In Door County, Wisconsin!
Sister Bay's Favorite Water Sport Open For Business
\ Sunsets \ Boat Rides \ departing hourly \ fly solo or tandem \ safe & fun \
Experience Door County from breathtaking new heights. See the rocky shoals, tree covered islands, and boats dotting the waters below while you soar above with an experience that is sure to last a lifetime. Trust our able-bodied, highly-trained, and experienced captains and crew to provide peace of mind, exhilaration, and serenity up in the air.
Ride solo, with a friend, or in groups of 3! For those who just want to watch, you're more than welcome to ride along at a discounted rate.
6-years and up are welcome to fly with a maximum weight capacity of 450lbs. Enjoy 360 views of Door County on an 800 foot line for an average of 10-12 minutes of air time!
Parasail Door County Rates & Schedule
Flying passengers $69.00
Ride-along passengers $25.00
departing hourly 7 days a week, june through september
| 9:00 - 10:00 | 10:00-11:00 | 11:00-12:00 | 1:00-2:00 | 2:00-3:00 | 3:00-4:00 | 4:00-5:00 | 5:00-6:00 | 6:00 - 7:00 | 7:00 - 8:00 | 8:00 - 9:00 |
Ask about our discounts with our partner company Sail Door County
Contact Parasail Door County
Call 920-854-0199 or e-mail parasaildoorcounty@gmail.com
connect with us on social media @parasaildoorcounty or tag us #parasaildoorcounty
We do our best to be available to answer any questions or concerns as quickly as possible. We are available by phone and e-mail daily from 9:00am to 5:00pm and if we miss your call we will get back to you promptly. Don't forget to tag us in your photos or videos using the hashtag #parasaildoorcounty or with our handle @parasaildoorcounty!